2023 History Newsletter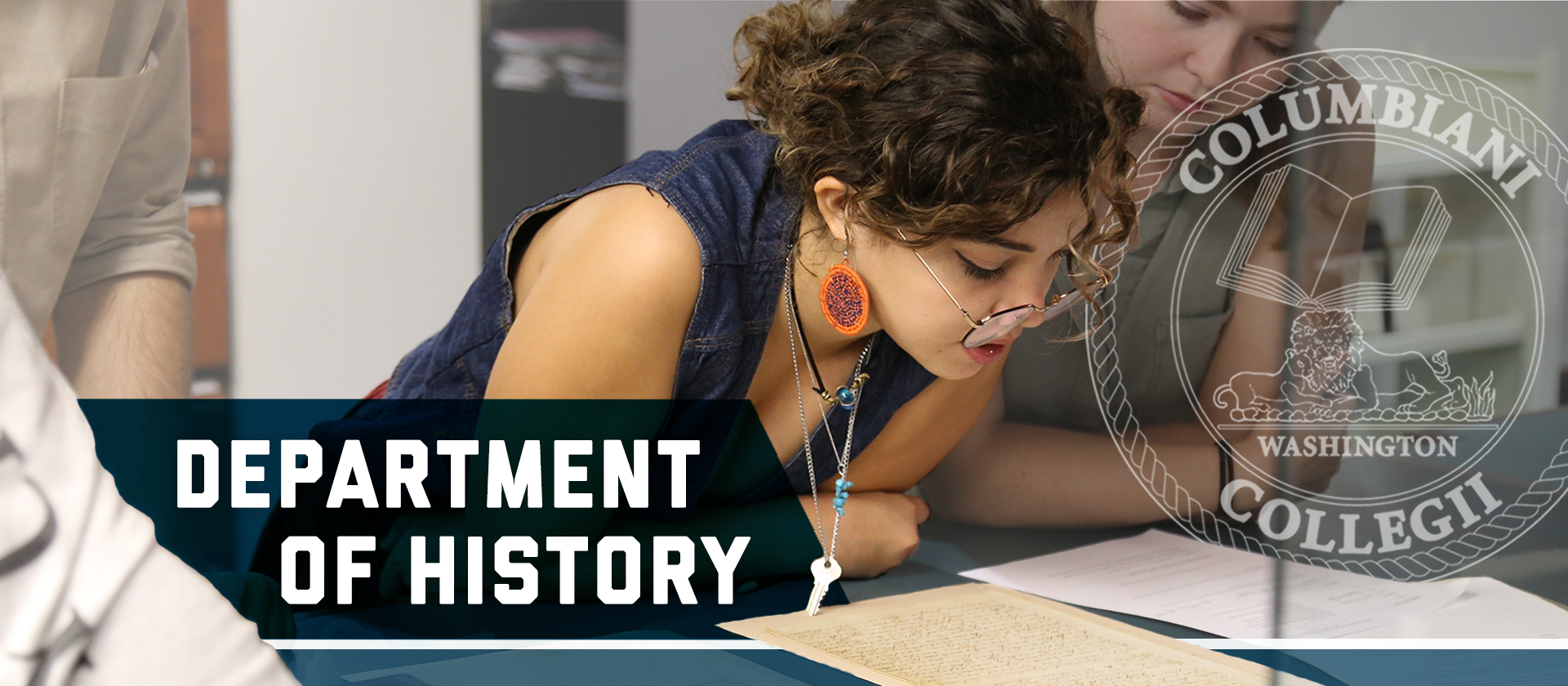 Message from the Chair
Faculty in the Spotlight
Alumni Class Notes
Faculty Kudos
---
Message from the Chair
Greetings to all of our alumni from the George Washington University Department of History!
After a year of adjustment to being back on campus, with regular mandatory testing and masks both required and ubiquitous, this year has felt like a long-awaited return to something approaching "normal." Through this newsletter, you'll read about a few of the exciting things happening in the department, including the achievements of our outstanding faculty. With the academic year nearing its end, there are no longer any events on the docket, but I do hope you will consider attending one of our events, which are often hybrid and can be accessed wherever you are living or working, next year.
Thank you so much for your support and involvement. Please stay in touch.
Sincerely,
Daniel Schwartz
Chair, Department of History
---
Faculty in the Spotlight
Whatever Happened to Coalition Building?
Inside Florida's African American Studies Ban
To Associate Professor of History's Erin D. Chapman, Governor Ron DeSantis' restrictions on the AP curriculum is a dangerous precedent—for educators and a divided country. She spoke with GW Today about how the African American studies ban is distorting history—and stoking division.
Welcome New Faculty Members!
The GW Department of History recently welcomed two new faculty members: Assistant Professors Gema Kloppe-Santamaría and Warren Milteer, Jr.
Kloppe-Santamaría received her PhD in sociology and historical studies from the New School for Social Research. She was a Marie Curie junior fellow at the Freiburg Institute of Advanced Studies and an assistant professor of Latin American history at Loyola University Chicago. Her research focuses on crime, violence, gender and religion in 20th- and 21st-century Latin America. Her 2020 book In the Vortex of Violence: Lynching, Extralegal Justice, and the State in Post-Revolutionary Mexico received honorable mentions for both the Maria Elena Martinez Book Prize (The Conference on Latin American History) and the 2022 Best Book in Social Sciences (Latin American Studies Mexico Section).
Milteer holds a PhD in history from the University of North Carolina at Chapel Hill. He has held academic appointments as an assistant professor of history at Virginia Tech, the University of South Carolina and, most recently, the University of North Carolina at Greensboro. In 2014 and 2016, he received the R.D.W. Connor Awards for best article in the North Carolina Historical Review from the Historical Society of North Carolina. His latest book, In Slavery's Shadow: Free People of Color in the South, won the Southern Historical Association's 2022 Charles S. Sydnor Award for the best book in Southern history. His research interests include U.S. history, the U.S. South, free people of color, race, slavery and Native America.
---
Alumni Class Notes
Judith Benderson, BA '67, MFA '70, Cert '03, held several exhibits this year including Ukranica, inspired by Picasso's "Guernica," which was exhibited at Windows on Wisconsin, Chevy Chase, Md.; and Hope and Spirit of My Lost Brothers at the Friendship Heights Village Center. These exhibits and more can be found through her personal website.
Neil Bhatiya, MA '09, is a senior policy advisor in the Office of Terrorist Financing and Financial Crimes at the U.S. Department of the Treasury.
Michael Carley, BA '67, completed a trilogy on Soviet foreign policy and the origins and early conduct of World War II. The University of Toronto Press will publish Volume 1: Stalin's Gamble: The Search for Allies against Hitler, 1930-1936.
Erin Dean, BA '05, is a USA TODAY bestselling author and has published eight books under the pseudonym Rene Webb.
Joseph Frechette, BA '95, MA '98, is the historian assigned to the Office of the Air Force Surgeon General.
Edward Gillespie, BA '92, teaches history and philosophy to police officers as part of Baltimore City's police reform movement.
Michael Greenwald, BA '06, is a senior executive at Amazon Web Services serving as global lead for digital assets, after serving the United States for nearly a decade as America's first and most senior U.S Treasury diplomat to Qatar and Kuwait.
Jeff Hartgen, MA '97, is the chairman & principal of MultiState Associates, a state government relations firm in Alexandria, Va. He has been with MultiState since 2005.
Shawn Hoyer, BA '99, is managing director, global head of venture capital coverage at Bank of America.
Stephen Jackson, PhD '13, published his third book, The Patchwork of World History in Texas High Schools: Unpacking Eurocentrism, Imperialism, and Nationalism in the Curriculum, 1920-2021, with Routledge.
Tate Jones, MA '96, is vice president of the Museums Association of Montana, is entering his 27th year as executive director of the Rocky Mountain Museum of Military History and is serving his eighth year as president of Northern Rockies Heritage Center, both at Fort Missoula, Mont.
Gustavo Mellander, BA '59, MA '60, PhD '66, is a former member of New Jersey's State Board of Education and is currently the contributing editor for The Hispanic Outlook in Higher Education. He continues to write and two of his books were selected by the Library of Congress as "essential reading."
Chuck Merin, BA '73, MA '76, remained in the D.C. area after graduation and enjoyed an almost 50-year career in politics and lobbying. He is happily married with two children and a grandchild, and he actively supports the GW men's hoops program.
Victoria Mora, BA '11, MA '13, relocated from Miami, Fla., to the New York metropolitan area to join the Guttmacher Institute's institutional development division.
Owen Pagano, BA '14, lives in Austin, Texas. He is a program manager for Atlassian, a global technology firm that makes software development and collaboration tools.
Reuben Rodriguez, BA '08, joined the legal department at Visa, Inc. as director and senior counsel supporting technology and procurement.
Richard Stower, BA '68, MA '72, is retired and living in Yarmouth, Maine. He is minister emeritus of the First Parish Unitarian Universalist Church of Scituate, Massachusetts, which was gathered in 1634.
---
Faculty Kudos